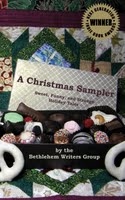 Winner of the 2010 Next Generation Indie Book Awards for Best Short Fiction and Best Anthology
About the Book
Christmas is a time for love, laughter, and wonder. A Christmas Sampler: Sweet, Funny, and Strange Holiday Tales, is an award winning compilation of twenty-three Christmas stories commissioned by the Bethlehem Writers Group to capture all of Christmas's myriad possibilities.
Paul Weidknecht's "Those Things Remembered" is about a long-time mall Santa who realizes he has forgotten a child's name. Courtney Annicchiarico believes against all evidence that she is pregnant in "Mis-conceptions." Hilarity reigns in Headley Hauser's explanation of a bachelor's Christmas traditions in "A Modern Single Holiday." In Carol L. Wright's "You Better Watch Out" a small-town lawyer takes on a mystery when Santa falls from her roof three weeks before Christmas. In "Walter and Stella," by Ralph Hieb, Walter finds himself dead on Christmas Eve, but refuses to leave his beloved alone for the holiday. And in "The Perfect Gift," Emily P. W. Murphy explores that moment in a relationship when one partner is ready for marriage, and the other seems not to notice.
This premier anthology also features stories by Jeff Baird, Carol A. Hanzl Birkas, Cindy Kelly, Jerome W. McFadden, Stanley W. McFarland, Sally Wyman Paradysz, Jo Ann Schaffer, and Will Wright.
These heartwarming, hope-filled, and hilarious tales will delight readers of any age.
Other Books in "A Sweet, Funny, and Strange Anthology"
Disclosure of Material Connection: Some of the links in the page above are "affiliate links." This means if you click on the link and purchase the item, I will receive an affiliate commission. I am disclosing this in accordance with the Federal Trade Commission's
16 CFR, Part 255
: "Guides Concerning the Use of Endorsements and Testimonials in Advertising."