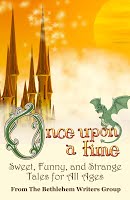 Step through our castle doors into a world of imagination!
About the Book
At long last, the Bethlehem Writers Group, known for its award-winning anthologies, has published a book especially for children. ONCE UPON A TIME is a collection of twenty-one sweet, funny, and yes, strange stories for kids from preschool through middle school.
This anthology is designed to grow with your child. First, stories such as "GG and Teddy and the Dream Willow" by Will Wright, "The Princess of Booray" by Emily P. W. Murphy, and "A Nutty Adventure" by Judith Mehl, will enchant those who enjoy being read to while sitting on a grown-up's lap. Others, including "A Harmonious Secret" by Josie Myers, "Bird Boy" by Russell Uhler, and "Bring-Your-Monster-to-School Day" by Kidd Wadsworth, allow young readers to immerse themselves in the fantasy and adventure of reading on their own. Finally, for older kids, such stories as "Book Worm" by Christopher D. Ochs and "Coot" by Anne Hamilton complete the collection with the tween or early teen in mind.
Enjoy these and other entertaining stories from our award-winning authors including: Jeff Baird, Marianne H. Donley, Ralph Hieb, Diane Sismour, Paul Weidknecht, and Carol L. Wright. In addition, we are happy to present "Stick to the Bypathings," an imaginative fantasy from Eleanor Ingbretson, the winner of the 2016 Bethlehem Writers Round- table Short Story Award. And charming illustrations from Agy Wilson enhance each story.
All together, this collection will captivate and delight children of all ages–even if they're grownups!
"Once Upon a Time is a readable treat . . . the perfect book to snuggle up with before bedtime or share over milk and cookies. . . . [S]ure to delight both youngsters and the young at heart." A. E. Decker, author of Moonfall Mayhem, the highly praised young adult fantasy series.
Other Books in "A Sweet, Funny, and Strange Anthology"
Disclosure of Material Connection: Some of the links in the page above are "affiliate links." This means if you click on the link and purchase the item, I will receive an affiliate commission. I am disclosing this in accordance with the Federal Trade Commission's
16 CFR, Part 255
: "Guides Concerning the Use of Endorsements and Testimonials in Advertising."