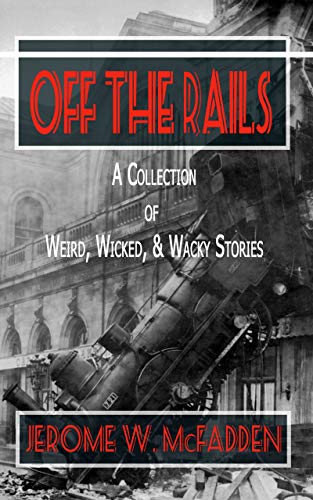 What happens if no one else sees the creatures calling to you from your back yard?
About the Book
What happens if no one else sees the creatures calling to you from your back yard?
Or your perfect crime is not as perfect as you planned? What if a city-dweller on vacation meets a tribe of head hunters in the middle of the jungle?
Or if the best player on the boys' high school sports teams . . . is a girl?
What happens if everything you thought you understood goes . . . OFF THE RAILS?
In this eclectic collection of twenty-six stories, multi-award winning author, Jerome W. McFadden, takes a warped view of robbers, gang-bangers, killers, cowboys, dead people (who might not know they're dead), and the idiosyncracies of rural life in the mythical town of East Jesus, Texas. These fast-paced tales explore the satirical edges of crime, paranoia, human foibles, and the afterlife. Some of the stories are weird, some are wicked, some are wacky, but all contain the unexpected twists born of McFadden's unique sense of humor and dark imagination. These unpredictable treasures follow in the footsteps of an irreverent O. Henry . . . and Rod Serling.
Life, as you know it, is about to go off the rails.
Jerome W. McFadden came of age in East St. Louis, Illinois, but has lived on four continents. He brings his weird mix of city smarts, country wisdom, international insight, and plenty of skepticism and snark to his stories about life and death, and all that happens in between.
Disclosure of Material Connection: Some of the links in the page above are "affiliate links." This means if you click on the link and purchase the item, I will receive an affiliate commission. I am disclosing this in accordance with the Federal Trade Commission's
16 CFR, Part 255
: "Guides Concerning the Use of Endorsements and Testimonials in Advertising."